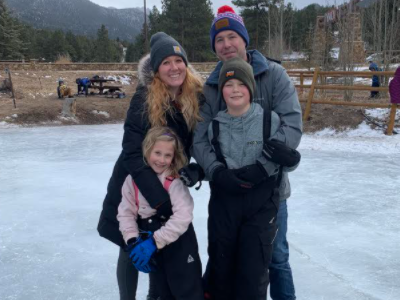 Dearest Birthparent(s),
First and foremost, we want you to know that we see you as a good parent, a loving parent that wants the best for your child. And for that we admire you and can already see your strength and bravery.
We are a loving family of four that know and believe in our hearts that God has put us on this journey for a reason. We are so excited to have the opportunity to share our lives with another child. We have all the love, support, strength and readiness to welcome a new baby into our hearts and home. We believe that family comes in all different shapes and sizes and we see a true beauty in that. We have both experienced adoption within our families and have both always known that was something we really want for our growing family.
Matthew and I have known each other since we were teenagers and have always had a very strong connection. We both grew up in Fort Collins and absolutely love the culture here. We take advantage of all it has to offer. We love traveling, camping, hiking, bicycling and just adventuring in general.
Matthew is a packaging engineer for an awesome local company, Otterbox. He loves his career so much and just celebrated his 10th year there. Matthew is an extremely present, fun and loving daddy and husband. He is our rock and we can always count on him.
I work very part time from home so that I can be at home with our children. I love being at home with my kiddos, it's the best job in the world. I come from a very blended family and feel so blessed to have such a dynamic and loving group to call mine. My family is my priority and means everything to me.
Ryder is 10 and has the worlds best imagination. He is a very patient and kind older brother. Ryders favorite thing to do is read. He loves Star Wars and is a great wrestler.
Isla Jane is 5 and is a ball of joy with energy for days. She keeps us all on our toes and loves hard. Isla Janes favorite thing to do is dance. She is on her 4th year and does all different styles. You can always find her snuggling our sweet puppy, Cricket.
We have so many close cousins, aunties, uncles and grandparents that all share in the excitement of welcoming a new child into our hearts and home. We are lucky to have all the love and support of our family members right here in Fort Collins.
This all being said, we would love the opportunity to meet you and share a bit more about our world with you and get to know yours. We completely respect your decision and your willingness to look over our portfolio. Our love and warmest wishes go out to you at this time.
With deepest regards,
Matthew, Amy Beth, Ryder, Isla Jane and Cricket