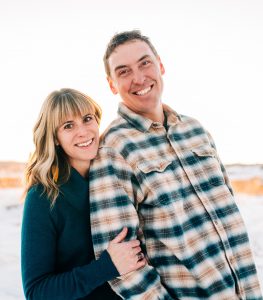 Dear Birthparents,
Hi there, we are Lindy and David Schwanke and here goes with our unlikely fairytale… We grew up 10,000 miles apart. Lindy is South African and stumbled across the small town of Steamboat Springs on a work-travel adventure. David is a true local, born and raised in Steamboat. We met through mutual friends and have been married almost 6 years now. We consider ourselves a fun-loving couple who value being committed and kind. In our relationship, we appreciate each other (and our flaws), we recognize that sometimes it's time apart that matters, and arguments are normal and we constantly work on talking about all things, good and bad!
We live in the magical ski town of Steamboat Springs, Colorado. The locals will tell you that people visit for the champagne powder skiing in the winters, but end up staying for the summers (indeed, this is true!). Steamboat is a small, family-oriented community offering outdoor recreation of every stripe and season. We are 6,700ft up in the mountains and we love the outdoors – anything from a backpacking weekend to a day of yard work, an evening spent fly fishing, early morning skiing or a quick lunch time hike. Like the people who live here, our town is real, genuine and friendly.
Sometimes going to work in Steamboat is tough. There is so much we'd rather be doing!  Living here really offers a unique lifestyle that allows us to prioritize a healthy work-life balance. We are hard workers and at times it does teeter close to all work, but we know that in the long run it always balances out with some play. Work fills such a large part of life, we have realized that loving what we do is key to our happiness. We have settled into careers that are challenging and rewarding. Lindy is an executive with a fast-growing restaurant group in town and David works as an electrician with the family business and is a professional hunting guide in the fall months.
With family on two continents, we come from different cultures and backgrounds and have different dynamics in our family values. We have embraced this opportunity to learn different perspectives. Our families aren't picture perfect, sometimes we disagree and bicker but what matters to us is that we all stick together… no matter what. Family is always there for us when we need them. They don't judge us, they push us to do better and they love us unconditionally. We consider time spent with our families a gift and we try to make every day count.
We all come up against obstacles in life, ours is infertility. For the past 5 years it has taken us on a rollercoaster ride. One day, we know this ride to becoming parents will make perfect sense.
As we sat to write this letter we were overwhelmed by a rush of ideas, worries, hopes and dreams. Considering how to express all this on paper for you to read, we reminded ourselves to focus on what is most important – this very special new life that you are bringing into the world and all the adventure that awaits them.  We hope this snapshot into our lives has helped paint a picture of all we'd love to share! We are incredibly grateful for our relationship, the spectacular town we live in and to have committed, supportive friends, families & careers. Thank you for considering us for the opportunity of our lifetime, to share in this child's greatest adventure – the rest of his or her life!
Warmest Regards,
Lindy & David