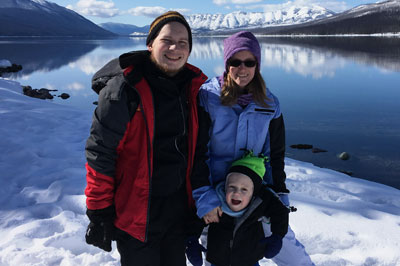 Dear Friend,
We are Stephen and Rachel from Bigfork, Montana. We have a three-year-old named Crispin who would love to have a sibling to play with. Thank you for taking the time to read our profile. Between co-workers, friends, and family we've known dozens of folks who have adopted or who are adopted. Adoption is a wonderful way to create a family.
We've learned over our 11 years of marriage that you can't always come through tough decisions unscathed, but you can make it through on your Faith and with the help of a best friend to lean on—for us that has been each other. Rachel would say that Stephen is supportive, compassionate, hardworking, a perfect complement to her—always willing to help others. Stephen would say that Rachel is a patient, thoughtful, and caring person. She has many talents which include dancing, oil painting, and teaching. Rachel is a smart, well-spoken woman with a quiet endurance and a strong sense of fairness. Our son, Crispin, is loving, sociable, and enjoys toys that he can take apart and "fix." He also loves story time, dinosaurs, and the color orange. Our extended families are excited about welcoming another child and regularly ask us for updates on theprocess.
We enjoy traveling even with little ones. Place and culture is important—and we hope to be able to visit Revolutionary War battlefields when teaching history and walk the Grand Canyon while teaching geology. Stephen plans to visit our sponsor child in Rwanda this fall. We enjoy experiencing other cultures and have taught weekly English classes to immigrants for almost a decade.
We live in a small town on a cul-de-sac in a quiet neighborhood with a mix of young families and older adults. Rachel is a stay-at-home mom. She enjoys putting together preschool lessons for Crispin. Stephen and Crispin love the made-from-scratch food with fresh ingredients she prepares and have to make sure they don't eat too much! Stephen works from home on a flexible schedule for a major tech company and this allows him to eat lunch with the family and play with Crispin in the afternoon. We often take strolls down by the nearby lake after Crispin wakes from his nap.
We look forward to telling a child their adoption story in the future and hope for you to be a part of it. We look forward to getting to know you, discussing your dreams for the future and journeying with you in thoughtful consideration and care. The best relationships grow naturally and over time.
With love,
Stephen, Rachel, & Crispin