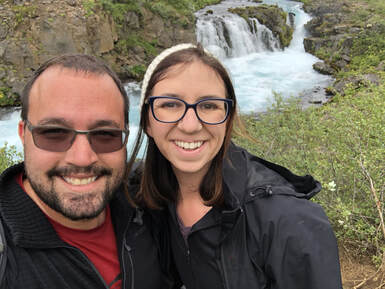 Dear parents,
Hello! We are Chris and Kayla, and we are so honored that you are taking the time to learn a bit about us. Making this decision about the right family for you and your child requires a lot of strength and intuition. You face an incredibly hard decision, and we hope you find the right match to go on this journey with you. We hope this letter can give you a good picture about who we are and what we value.
We're high school sweethearts who have been looking forward to adoption since we were literally teenagers. Now, 15 years later, we are ready to dive into parenthood. Fort Collins has always been our home: Kayla was born here in town and Chris moved here in elementary school. After we graduated from Colorado State University, there was no question that we would stay in the area. All of our siblings and parents still live in the area, and they are just as excited as we are to welcome a new member.
These days we live in a cozy house is in the center of Fort Collins with our two adorable dogs. We're on a quiet residential street, with a beautiful park, pool, and middle school all within a few minutes' walk. Chris is a computer programmer who often works from home, and Kayla is a high school history teacher. We think our home is a great positive space and we can't wait to share it with children.
Over the years we've found a healthy balance that we hope will provide stability and many opportunities for children to grow up in. Chris has a total science and math brain, while Kayla loves anything about history or books. We're both certified homebodies, but also enjoy a good dose of the excitement and unpredictability of travel. Chris jumps headfirst into every new hobby he finds, while Kayla likes to be an expert in her favorite things. We're opposites in many ways, but we're united in our endless love for learning, our animals, and a good sense of humor. We can't wait to share our experiences with a little one and are even more excited to follow them into whatever interests and passions they discover along the way.
Families are chosen as much as they are made, and that is especially true with adoption. We have siblings, cousins, parents, and grandparents who come from adoption, and we are eager to welcome another into the fold. We want to raise our children in a house of warmth, humor, and security; we are committed to giving our children the support they need to become the amazing people they're destined to be, without ever forgetting their own roots. You are making an incredibly challenging decision to find the right family, and we are fortunate that you are considering us. We hope you find your perfect match and that the rest of our portfolio helps you to get to know us better.